NWAYP Sake Tasting at Shogun's Fayetteville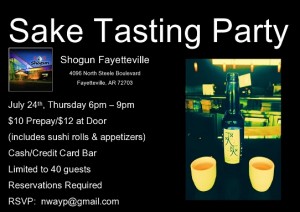 NWAYP along with Shogun in Fayetteville have created a truly unique experience.
On the evening of Thursday, July 24th, Shogun has graciously offered to NWAYP members exclusively a Sake Tasting. We have the Skybar atop Shogun of Fayetteville reserved for our event. The bar manager,will be there to help educate everyone on the differences of Sakes. Appetizers will be provided which consist of a Nigiri platter, Sushi Rolls(California,Philly, and Shrimp Tempura) as well as hot appetizers including Egg Rolls, Spring Rolls, and Shrimp Tempura Rolls. For those that need more or want something different more food may be purchased individually. This event will be a unique cultural experience along with networking and meeting new people!